Reçue l'eQSL de FRSH.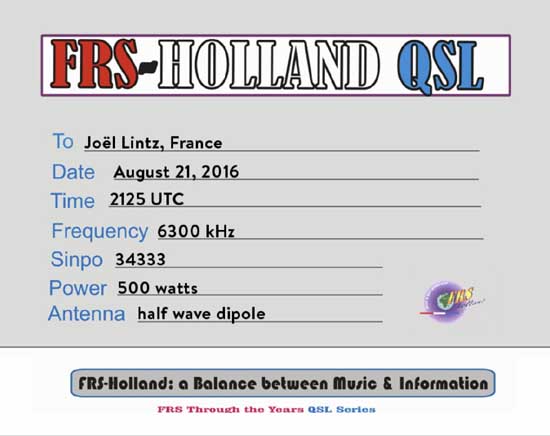 Plus ces infos :
Date: September 27th 2016
Subject: FRS-Holland August 21st / September 4th 2016 broadcasts
________________________________________
Dear Hannu,
Via this letter we- the FRS crew- like to thank you for writing in for our broadcast on Sunday August 21st 2016. That day marked our annual Summer evening broadcast. FRS-Holland hit the airwaves that day between 18:52- 23:05 CEST on 6300//9300 kHz. Although we started on 6280 kHz, we were soon forced to leave that channel due to interference from a strong Dutch station  operating nearby on 6285 kHz. We therefore moved to 6300 kHz where (according to most reports) interference from Reflections Europe on 6295 was very acceptable, in other words: reception on 6300 was mostly not  seriously affected by the aforementioned religious station. The 9300 transmitter provided a strong, stable signal fading out towards the last hour of the broadcast whereas 6300 became stronger as the evening progressed. Later in the evening FRS was received on 9300 in North America; contrary to the European continent the signal across the pond got stronger and stronger as the evening progressed.
Propagation conditions on Sunday August 21st  happened to be quite stable and were satisfactory.
Remarkable is the fact we received reports from so many different countries including the US, Malaysia, Russia, Italy, Belgium, the Netherlands, France, Spain, Austria, Denmark, Germany, the UK, Hungary & Japan.
On Sunday evening Sept. 4th FRS conducted a test on 5.8 MHz. We started at 18:00 UTC on 5800 but an hour later Laser Hot Hits started on that frequency. As a result FRS had to move to 5810 but on that frequency the signal was affected by quite some electronic noise. All in all not a successful test unfortunately!  For more information I'd like to refer to our website [frsholland.nl].
Dear Hannu,, thanks so much for your mail report & letter. We are certainly happy you tuned in to our our August 21st  broadcast. Signal on Augsut 21st was good.
I sincerely hope you will again pick us up in the not too distant future! Keep in touch with us…we do hope you are becoming a very loyal listener to our shows!
As you haven't requested for any specific QSLs from our current series FRS through the Years, I have been been chosing one  myself.  But perhaps you will give it a try next time…you can make your choice out of any QSL from our current series FRS through the Years. Look on our website frsholland.nl for choices to make from our current running series 'FRS-Holland Through the Years'. On the website you will find a wealth of info regarding our history, pxs, presenters past & present etc. Find out yourself! Also much audio extracts & photos/pictures. Hopefully we will hear from you in future  as support remains vital for us as a free radio station!!
I hope you will be tuning our way when we will be on air next time. The Free Radio Service Holland will return on Sunday October 23rd 07:52- 13:05 UTC (09:52- 15:05 CEST) most likely on 7700//9300 kHz. In addition we also broadcast 12:00- 17:00 UTC (14:00- 19:00 CEST) on 6070 kHz. On Saturday October 29th, Sunday October 30th, Monday October 31st & Tuesday November 1st the 5 hour broadcast is to be heard via Internet streaming. Check our website for details (streaming services & times).
---------------------------------------------------------------------------------------------------------------------------------
Reports sent by mail are consequently verified with our eQSL. For snailmail we offer a high quality printed A5 size hard QSL copy- in colour- which has a different (much better looking) back side and is of course much more desirable compared with the e-QSL. Although we realize that an e-mail report is a quick and easy way in reporting, we feel  that a 'letter' report to our mailbox (POB 2702) is a more 'charming' and personal way. For only 3 euro/ 3 US dollars we forward that desirable QSL!  you are interested in our history…you can obtain a hard-copy of our specially produced '30 Years of FRS-Holland' booklet (24 pages, in colour!). Send 5 euro/ 7 US dollars to FRSH, POBox 2702, 6049 BE Herten, the Netherlands. A very interesting read is guaranteed.
All the best & 73s, Peter V. (on behalf of Jan, Paul, Dave, Roger, Bert, Bobby & Brian)
FRSH sera sur les ondes le 23 octobre !